Mega-list of Bay Area startup resources
UPDATED IN 2022! Whether you're a newbie entrepreneur or a seasoned veteran of the startup scene, here are 40+ Bay Area startup resources to help you launch and grow your dream business.
San Francisco office and coworking spaces
If you're not ready to sign a lease for your own location, you could head over to a San Francisco coworking space, where membership benefits include your own "hot desk" or small office, plus all sorts of networking events and classes. Here are some of San Francisco's favorite coworking spots, many of which now offer flexible or remote options.
Founders Den An exclusive, invitation-only coworking club for startups and their founders.
NextSpace Coworking, infrastructure and community for freelance workers and entrepreneurial professionals. NextSpace has a great community vibe and lots of fun events and learning opportunities.
PariSoma "A collaborative loftspace for coworking and events in the SoMa district of San Francisco." Perks include wifi, coffee, workstations, and a conference room, as well as awesome education events geared especially for startups."
Eco-Systm A large space with natural light and a modern aesthetic. Oriented toward sustainability and creativity. Onsite partnerships with Temple Nightclub and Mirus Art Gallery.
DG717 "Coworking for entrepreneurs from Japan and around the world."
Shared A coworking/maker space for creatives.
Bespoke Located in the Westfield Mall, Bespoke offers access to a variety of spaces, including many meeting rooms, a flexible event space and a demo space.
The Vault An on-trend collaborative coworking space with a funky interior. Located in the Financial District, downtown SF.
The Hivery A woman-focused hub for inspiration and networking. Now remote.
WeWork Part of an international chain of coworking locations, with tons of amenities.
Runway A workspace for tech startups in San Francisco.
Learning and networking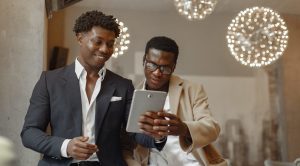 Local opportunities to mix, network, discuss, and learn alongside other techies and founders.
Noisebridge 'A physical space open and welcoming to all, providing infrastructure and collaboration opportunities for anyone interested in programming, hardware, crafts, science, food, robotics, art, and technology. We teach, we learn, we share. With no leaders, we have one rule: "Be excellent to each other."'
Nasdaq Entrepreneurial Center A resource center, located in downtown SF, for aspiring and current entrepreneurs.
Renaissance Entrepreneurship Center Not tech-focused, but a great resource for budding and under-served entrepreneurs in San Francisco and beyond.
Local tech meetups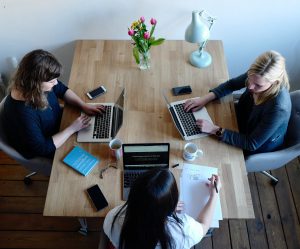 If you're looking for even more chances to build your knowledge-base while networking with other community members, check out some of these Bay Area Meetups:
SF New Tech Meetup A monthly networking mixer for Bay Area tech geeks. According to one fan, "SF New Tech is the best place in San Francisco to launch, meet or recruit for young tech companies."
The SF PHP Meetup Group "An open forum where PHP developers of all skill levels can come to communicate, learn network, or just have a good time."
The SF JavaScript Meetup "Hang out and discuss JavaScript tips, tricks, hacks, and frameworks with some of the best scripters around."
Conferences + startup events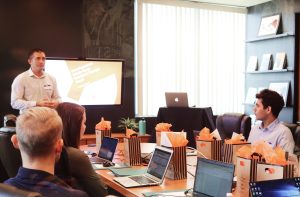 Here are some of the best-known Bay Area tech conferences, and a few that are a little farther afield.
DEF Con "One of the oldest continuous running hacker conventions around, and also one of the largest."
Game Developers Conference "…brings the game development community together to exchange ideas, solve problems, and shape the future of the industry."
Failcon "A one-day conference for technology entrepreneurs, investors, developers and designers to study their own and others' failures and prepare for success."
The Future of Money and Technology "The Future of Money & Technology Summit brings together the best and brightest thinkers around money, including visionaries, entrepreneurial business people, developers, (and more)."
SF MusicTech Summit This popular annual event gathers techies, creatives and other movers and shakers from the intersecting worlds of music and technology.
SXSW If you've never heard of Austin, Texas based, SXSW then you're in for a treat. Check out the new online platform for SXSW 2021 to learn how the conference is adapting to the conditions related to the Covid-19 pandemic.
TechCrunch Disrupt New startups compete for the chance to win $50,000 and launch their new company onstage, in front of heavy hitters from the tech industry. There's also a Hackathon, for those who want to get their hands dirty.
HustleCon A conference focused on non-technical startupers.
Dreamforce The annual Salesforce conference, always in SF.
Email lists and newsletters
Here are just a few of the many lists of startup news and events that can be delivered straight to your inbox on a regular basis.
Silicon Valley Startup Digest A huge, comprehensive list of news and events in the startup community. Digests are available for other cities as well.
Vator News Comprehensive news coverage and bulletins on what's happening in the emerging tech community.
The Hustle "Business and tech in 5 minutes and less."
Crunchbase Daily "Funding rounds, acquisitions, and more."
Co.Design The Fast Company design newsletter: "design inspiration in your inbox."
Women-oriented groups and resources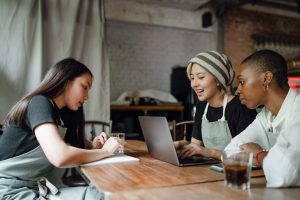 While we've come a long way, women are still under-represented in the startup/founder community. Here are a few great resources for female developers and startup entrepreneurs.
devChix "An international group of female programmers working to make the tech community a better place for everyone."
SF Tech Ladies "A social network enterprise focused on the engagement, education and empowerment of like-minded, professional, and influential women in technology."
LinuxChix "A community for women who like Linux and Free Software, and men who want to support women in computing."
Switch (formerly Women 2.0) "A robust space for tackling heavy topics like gender and race inequality."
Launch, baby, launch
Additional Bay Area startup resources to make that startup happen.
Startup Weekend Network, collaborate, and build your own startup in one weekend! Startups weekends take place throughout the globe, every month of the year. Check the listings for the next Startup Weekend near you.
Vator.tv An online media hub where entrepreneurs can connect and learn from one another. Orientation is toward the high tech startup community.
Founders Network Tech founders dedicated to helping other founders succeed. Apply through the Founders Network website.
Startup America "The White House initiative to celebrate, inspire, and accelerate high-growth entrepreneurship throughout the nation." Check out the Startup America Partnership, for lots of free goodies (software and services) for US-based entrepreneurs.
Startup funders and accelerators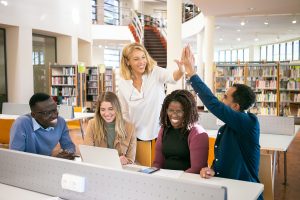 500 Startups "A new kind of seed fund and startup accelerator. We believe successful internet startups are born from usable design, customer-focused metrics, and online distribution."
The Band of Angels Silicon Valley's oldest seed funding organization, consisting of more than 120 current and former high tech executives. The group meets monthly to formally consider three pre-selected startups for funding and support.
The Foundry Group While not in the Bay Area, The Foundry group is a well-known venture capital firm the invests in early-stage IT, internet and software startups. Their huge portfolio includes Zynga, Standing Cloud and Makerbot Industries.
Highland Capital Partners Currently investing in seed, early and growth stage companies in the communications, consumer, digital media, healthcare and IT technology markets. One way to get involved is through the Summer@Highland program (for selected university-affiliated startup founders and teams), which includes complimentary office space, mentorship, and $15,000 in seed funding.
MassChallenge Enter to qualify for $40-$100K in seed funding, free office space, and participation in their startup accelerator and related events from June 27-September 27. MassChallenge does not require an equity stake and is open to companies in any industry. Based in Massachusetts.
Plug and Play Tech Center  This center provides access to funding via venture capitalists, facilities for startup office space, corporate relationships, mentorship/advisory services, and networking events.
Sequoia Capital The grand-daddy of the VC industry, Sequoia Captial provides start-up venture capital funding for seed stage, early stage and growth companies.
TechStars Seed funding and intense mentorship from experienced entrepreneurs. TechStars awardees also get outstanding perks from TechStars partners such as Rackspace Hosting, Amazon Web Services, and Heroku. TechStars requires an equity stake in funded startups.
Y Combinator Small funding awards for unique startups with great ideas. Funding from Y Combinator requires a move to Silicon Valley for 3 months of mentorship and training. Y Combinator requires an equity stake in funded startups.
Startup competitions
Compete for cash to help make your brilliant idea a reality.
Launch Accelerator at UC Berkeley The Cal business plan competition is open to current part-time and full-time students
SXSW Pitch Not exactly a local competition, but one with heavy participation by the Bay Area startup community.
No doubt, we've left some important resources off of this list of Bay Area startup resources. If you see a glaring omission, send us an email or drop us a tweet @LimeTech, and we'll add it to this page.
---
LimeTech is a creative tech company with a focus on app development. We help brands grow their impact by building digital products that please customers and solve business challenges. Our work includes strategy, design, content, and tech planning. Check out our portfolio or reach out to start a conversation about your project.