Our monthly series — Fresh Tech — a collection of fun things on the web that sparked our interest with their fresh takes on tech.
This month, we continue the leisurely pace of summer with inspiring design, new ideas about hybrid and coliving work scenarios, and a brand new novel set in the Tech world. Pour a glass of something cool and read on…
July is for inspiration!
We all require devotion to something more than ourselves for our lives to be endurable.—Being Mortal by Atul Gawande
Design
Birds, insects, or otherworldly creatures? Revolutionary designer Iris vanHerpen created her recent collection 'Earthrise' entirely out of trash. Yes, trash! Here's an excerpt from the introduction to the new collection.
With our planet positioned at the forefront of the global agenda more than ever before, 'Earthrise' explores the splendour of this blue body we call home by circling towards the amalgamated awareness to maintain the grandeur of the turning sphere we traverse along. In parallel to Van Herpen's drive towards an interconnected approach to fashion, the 19 look collection narrates the circular processes that usher change in our sentient world by weaving a symbiotic thread between artisanal tailoring and organic craftsmanship, derived from the perception of our world as one living and breathing organism. 

Read the full statement in the description of the video itself.
Take a look at this stunning six-minute video presentation, including professional skydiver Domitille Kiger, starting at 7,000 feet above the earth. (Use the full-screen view for the ultimate experience.) 
—
If clothing can be made out of trash, how about a home made out of dirt? It's called Tecla ("technology and clay") and more beautiful than you might imagine.
Work Life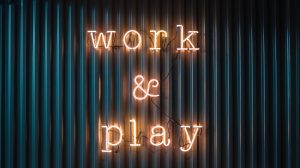 "In May, a survey of 100 companies conducted by McKinsey found that nine out of 10 organizations planned to combine remote and on-site working even after it was safe to return to the office." Here's how some startups are approaching hybrid work set-ups. 
—
We've heard of coworking and cohousing but how about the latest iteration called coliving, aimed at digital nomads? Rowena Hennigan, an expert in remote work, offers her experience with this developing concept at a coliving space called SENDE in rural Northern Spain. As LimeTech is a fully distributed company, we find this idea intriguing and ripe for growth.  
Screen-Free Saturdays
Everyone needs and deserves time off from work. These four tips can help to reframe and overcome self-sabotaging mindsets about taking your vacation time. 
—
Described by Stylist as 'Like a boxset for your bedside . . . where The Good Wife meets The Social Network, such a good read' the recently published novel, The Startup Wife, is getting a lot of buzz online. Let us know if you've read it and your impressions.
Happy Summer!
—
Want more? Catch up on last month's Fresh Tech article.
---
LimeTech is a creative tech company with a focus on innovation and adaptive change. We use technical know-how, design skills, and deep experience in entrepreneurship to help companies advance their business goals. Do you need IT planning, mobile app development, web design, or remote work solutions that will take your business to the next level? Get in touch today and find out what we can do for you.