On remote and hybrid transitions:
how the right approach can get your company ahead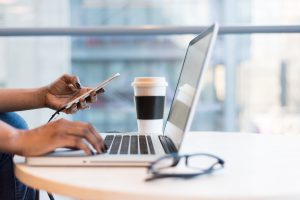 Millions of companies were forced to make the fast pivot to remote work in the early days of the COVID-19 pandemic. Some were able to deftly navigate the transition, while others hit major roadblocks.
As restrictions ease, many are pivoting back to a hybrid setup. Other teams have returned to in-person work, with the option for remote work on an as-needed basis. Each company has had to negotiate these choices on their own, an experience which can be incredibly challenging. 
For companies still entering the remote space or navigating a pivot to remote hybrid, it's worth considering that the transition can be more than a defensive move. In fact, there are strategic reasons to embrace this arrangement. In the current era of unexpected events, the ability to access your data and work from anywhere isn't simply good insurance (and the ethical thing to do), it can also deliver clear competitive advantages.
Here are some of the advantages you get when you take your team remote:
Better adaptability. A shift to remote work typically involves a cloud data migration. With your data on the cloud, your IT infrastructure becomes more adaptable, enabling your company to adjust to changes in the business climate. A sudden change to your data requirements no longer involves the addition or removal of costly equipment, but instead  a scaling of services and/or resources.
Improved customization. Build your tech-stack

and

your work culture to match your company values and culture. With the benefits of serverless infrastructure and software-as-a-service (SAAS) subscriptions, IT is no longer a one-size-fits all arrangement. Customization is the new way.
Greater flexibility. With your data in the cloud, instead of being limited to on-premises work, your team can be remote or onsite on an as-needed basis. In this way, flexibility is baked right into your infrastructure, and choices are always available.
Expanded talent pool.

By shifting to a remote, distributed, or hybrid work model, you're more equipped to hire team members beyond your geographic region. Even further, a location-diverse team will be better qualified to collaborate with international partners. This approach can translate to major competitive advantages, when navigated the right way.

Improved productivity. A cloud data migration can improve productivity by reducing downtime from server, network, or

VPN

issues. Many companies also report greater team happiness and work productivity in the context of a remote work setup, though that can depend on a variety of factors. Setting the right expectations for your team is imperative.
Better security. Storing your data on the cloud reduces vulnerabilities to hackers, local disasters (like flood, fire, hurricanes), and theft. Keeping a local backup in addition to your cloud storage solution can provide redundancy and peace-of-mind.
Improved health and safety

. In the context of a global pandemic, the option to work remotely can protect your staff from

COVID-19

, enabling them to safely quarantine if necessary. Working from home can be a valuable option in the context of other life events, such as caring for infants or elderly parents.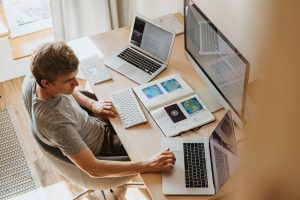 Evaluation pays dividends
Most transitions to a remote or hybrid remote work setup involve some form of cloud data migration. However, before implementing a cloud migration or transitioning to a new tech stack, we recommend taking the time to evaluate your goals, values, and company culture. This also applies if you're reassessing your remote work processes following a fast, hard transition at the beginning of the COVID-19 pandemic.
A purposeful approach to developing an ongoing system, as well as the right cloud platforms and applications for your team, will serve you well in the long-term. The right approach may even give you unexpected competitive advantages, taking your company to a whole new level.
If you're reconsidering your approach to remote work, starting a new pivot, or just trying to get your head around the best options for your company, we can help. After helping high tech startups for well over a decade, we're likely familiar with any challenge you're facing. Contact us and we'll be in touch to schedule a quick conversation.
---
LimeTech is a creative tech company with a focus on innovation and adaptive change. We use technical know-how, design skills, and deep experience in entrepreneurship to help companies advance their business goals. Our specialties include mobile app development, website design, technology planning, and remote work solutions.