The 4 stages of app prototyping
There are lots of good reasons to start your app project with a prototype. Savvy entrepreneurs choose this method to save money, conduct early testing, and share their concept with stakeholders. But, there's no such thing as "just a prototype." There are actually four stages of app prototyping, with each stage resulting in a different type.
Let's take a look at all four stages of app prototyping:
1. Paper prototype

A paper prototype can be as simple as a napkin sketch. It can help you outline, edit, or demonstrate your app concept in its rawest form. A low-tech sketch allows you to experiment and work through variations before deciding on a direction. It also allows you to easily share your ideas. And when you include colleagues and UI/UX designers early on, it creates buy-in with your team.
2. Wireframe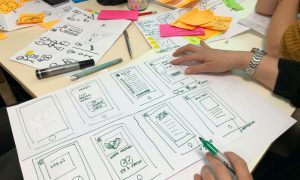 A wireframe brings your process to the digital realm. It outlines the basic layout of your app without written content or visual elements. You can think of your wireframe as a rough roadmap for where you'd like to go with your project. Your wireframe will function as the blueprint for your low or high-fidelity prototypes. It's typical to employ the concepts of design thinking at this early design stage, going through many iterations before choosing one to move forward to the next stage.
3. Low-fidelity (lo-fi) prototype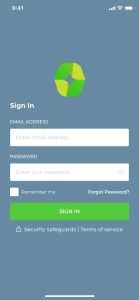 A low-fidelity prototype is a simple, interactive version of your product. Your low-fi prototype establishes the placement and size of various elements, and includes navigation and basic clickability. Most content integrated at this stage will function as a placeholder, so don't be surprised if you see generic content in this stage of app prototyping.
4. High-fidelity (hi-fi) prototype
A high-fidelity (hi-fi) prototype adds another level, with a realistic, interactive representation of your product design. It includes original content, images, and features, as you'd like them to appear in the product. Your hi-fi prototype simulates the experience of your app, without going through the work of coding.
In summary, if you've got a great idea for a mobile app and you're wondering what to do, starting with a prototype can be a great way to test the waters. Depending on your goals, you may need just a basic wireframe or a full-fledged high-fidelity prototype. No matter which of the four stages of app prototyping your project is, LimeTech can help. Contact us and we'll be in touch to discuss your project. You might be surprised how fast and affordable the process can be.
—
Editor's note: Addie Kugler-Lunt expanded and updated this article in June 2022.
---
LimeTech is a creative tech company with a focus on app development. We help brands grow their impact by building digital products that please customers and solve business challenges. Our work includes strategy, design, content, and tech planning. Check out our portfolio or reach out to start a conversation about your project.