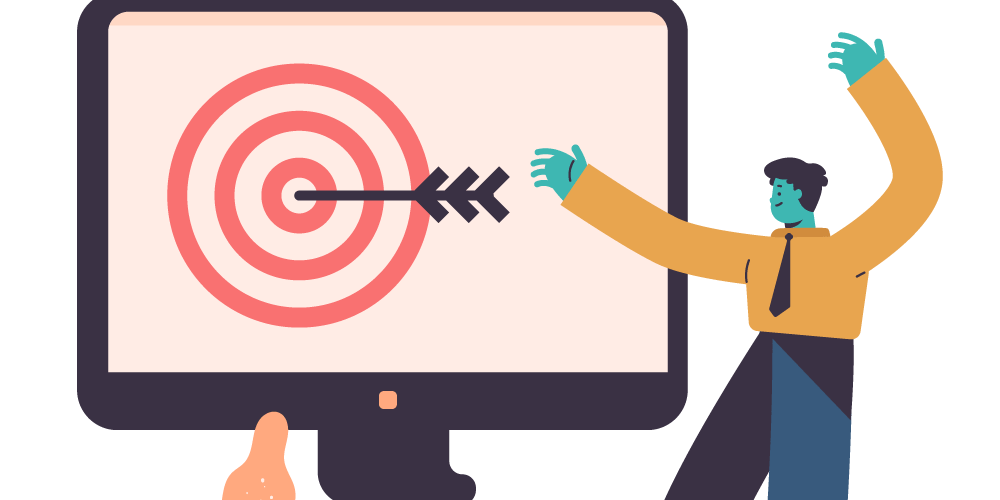 Planning a website for your business? Answer these 5 questions to get some clarity.
Embarking on a new website design project? Congratulations!
You're taking a step toward one of the most important improvements you can do for your business. Whether you're building your own website or hiring a web design company to do your project, it helps to do a little planning beforehand.
Here are 5 important things to consider when planning a website for your business.
1. What's the purpose of your business and your new website?
What's your purpose, baby? Nothing wrong with starting with the big questions, right? To get started on your project, think about the purpose of your business, and how it relates to your site. It's worth doing a little extra thinking at this stage, so you can clearly explain your purpose, whether to yourself or to your team.
The purpose or vision statement for your business helps you dig deep and figure out the why behind what you do. Ask yourself why you're in business, and what you're trying to achieve. Understanding the why of your business will help you pilot your ship and distinguish yourself from the competition. 
You can read more about purpose or vision statements here and here.
A clear purpose statement for your business will also help you define the purpose for your new website. 
Here's an example: 
Your business purpose is "To warm hearts and bring Boston Area families together with delicious and authentic Mexican cuisine."
Your website purpose might be to enable families in the Boston Area to learn about your business offerings and easily make online reservations for lunch and dinner.
Clarifying the purpose of both your business and your website will help you establish the goals for your project. 
2. Who are your target customers?
It's likely you know your target customer but if not, or if it has changed, this is a great time to focus on whom you want to serve. 
When asked to name their perfect customer, many business owners will happily say, "anyone!".  And of course, most businesses will never turn someone away at the door. 
However, it's important for you to have a specific understanding of your target customer and the challenges they face. When you see your customers as unique individuals, and seek to address their challenges, you'll stand out from the competition.
Connecting with your customer in this way will ultimately win you more business.
Selling directly to consumers (B2C)
If you're selling directly to consumers, you'll want to know exactly who they are. This information may include age, gender, income level, likes/dislikes, and where they live. 
This is commonly known as demographic or psychographic data. Creating a demographic and psychographic profile can be a fun exercise. Some entrepreneurs go so far as naming and illustrating their target customers. 
Selling to other businesses (B2B)
Likewise, if you're marketing to other businesses, you'll want to consider the size of the company you want to serve, as well as their industry, location, and specializations. Also, remember that though you may be a B2B company, you're still selling to individuals, so knowing your target buyer is important, too.
Identifying your target customer and understanding the challenges they face will help you attract the right customer. Speaking their language will also help persuade them you're the best vendor for the job.
3. What are your goals for this project?
Starting a project without goals is like embarking on a hike without a map or compass. You'll likely wander and may get lost in the forest. 
Likewise, a project without goals will waste precious time and resources. 
Your goals naturally flow from your purpose statements, and will influence decisions about the style and structure of your website. Writing down your project goals will help you plan your project scope.
Project goals = better scope
Are your goals just to establish a digital presence and provide location and contact details for prospective customers? If so, your project scope may be limited to a very simple three or four-page website. 
On the other hand, if your goal is to sell 1000 men's selvedge denim shirts every month, your website project will have a different scope and structure. 
An e-commerce website will need, at a minimum, a shopping cart, checkout process, and payment options. Your project will also need an online marketing strategy to attract shoppers who are searching for men's selvedge denim shirts on the web.
In other words, if you're launching an ambitious e-commerce business, you'll want a different kind of website than one that's purely lead-focused or informational. 
Having clear goals will enable you to give your web design team direction, and reach the positive outcomes you're looking for. 
4. Do you know your budget?
Setting a clear budget will help you decide on the scope of your project. Knowing how much you can reasonably invest will determine the type and size of website you can build. It will also help you determine whether you can afford to hire experts to assist you with your project. 
If you're working with a very limited budget and you're happy working with a template, there are plenty of Do-it-Yourself options. In fact, you can build your own plug-and-play website with a platform such as Squarespace, Wix, Shopify, or WordPress.com. The cost is a relatively low monthly fee. 
If you want a custom-designed website, e-commerce solution, or you don't have the time and energy to build and manage your own website, you'll need to hire a web design agency or independent designer. This option can save you trouble in the long run because you can be confident that everything was set up correctly and works well.
5. Who's on your team, baby?
Based on your budget and your project ambitions, you can start building your team. 
Will you need a graphic designer, copywriter, photographer, or SEO specialist? If you're managing the project yourself, you'll need to hire this talent. If you work with an agency, they should be well equipped to provide or locate this expertise on your behalf. 
If you're not ready to go the fully custom route for either photography or illustrations, your website design team can source stock illustrations or photographs for you. 
If you want to be more hands on, you can create or purchase the content yourself–just be sure to have all your files organized and ready to deliver to your team before your project kicks off.
Take the wide view for success when planning a website for your business
In summary, taking the wide view on your web design project will help set you up for success. 
The process of planning a website for your business can be a great way to get focused and organized, and facilitate the work of your web design team. You might even discover new energy or inspiration for your business along the way.
If you're in the market for a custom website for your business, we're happy to help. We're familiar with a wide range of industries, and we've probably helped a company like yours before.
Get in touch today for a fast and easy quote for your website design project.
---
LimeTech is a creative tech company with a focus on innovation and adaptive change. We use technical know-how, design skills, and deep experience in entrepreneurship to help companies advance their business goals. Do you need IT planning, mobile app development, web design, or remote work solutions that will take your business to the next level? Get in touch today and find out what we can do for you.