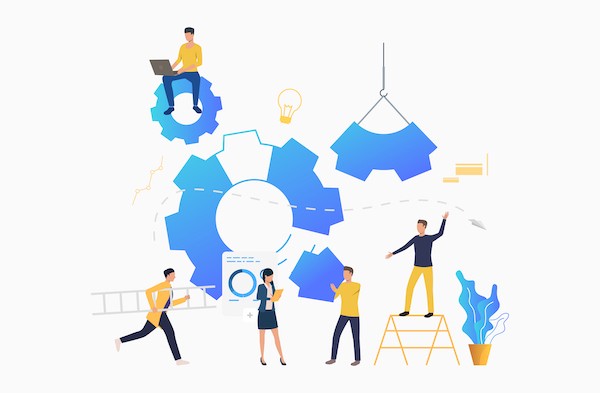 For today's blog, we wanted to take a moment to discuss the question of whether or not you should hire an IT consulting firm. Working with an outside IT provider is not a good fit for everyone. We'll be describing the kinds of scenarios where this does or does not make sense.
First, who should not hire an IT consulting firm?
First of all, let's explore the kind of companies that should not hire an IT consulting firm. Companies that don't need to hire an IT vendor tend to be larger, a little more established, and their workload tends to be more process than project-oriented. These businesses have bigger budgets and sufficient revenue that they can support multiple departments and a robust staff with clearly defined duties. In those cases, having a full-time internal IT staff member (or a complete department) is the best arrangement, providing the company with a consistent on-site resource that is embedded within the company culture.
These kinds of established companies may seek an outside consultant during a time of growth, auditing, or for a particular project where their internal team is not well-qualified. However, this relationship tends to be shorter-term, and is more of the exception than the rule.
Now, let's consider the kinds of companies that don't typically maintain their own IT department. 
Startups and High-Growth Tech Companies
There many examples where hiring an outside IT firm is the right choice. One example is that of a small, but rapidly growing startup. In this instance, the founders of the company may be quite capable of solving network-level IT challenges, but are so occupied with business development that they have limited time to administrate the IT needs of new employees.
The frustrations of these founders can be acute, for they may be accustomed to doing everything themselves. Handing over the reigns to others can seem like a loss of control. However, for such founders, there is a dawning awareness of their own limited capacity…and the thousand tasks for which they're overqualified.
These tasks might include provisioning new users, setting up workstations, creating email accounts, and administrating access privileges to web applications. Overall, they add up to a lot of headaches and grief for folks who'd be better off applying themselves to far more complex challenges.
In such a scenario, finding a local IT firm with experience supporting high-growth tech companies can be a source of great relief. The IT firm, working on a one or two day-per-week schedule, can easily handle administrative-level tasks while supporting the company on more complex IT projects like server builds and cloud migrations. The founder, meanwhile, wins back the time and energy needed to do the work of growth, development, and the occasional Ted Talk.
Knowing what we know about startups, there will be days of feast and days of famine. Considering that funds can fluctuate, we strongly recommend that startups work with an IT provider who offers flexible terms. In this way, services can scale up or down depending on the needs of the company and the status of funding or revenue.
Small Legal Firms
Another example of a good fit for outside IT consulting services would be a small legal firm. Due to the private and sensitive nature of their work, law offices require ongoing oversight and management of their IT systems. Many such firms don't have the budget or the space for a full-time IT staff member….but not just any IT guy from Craigslist can be trusted with this kind of work. Between the tight deadlines and need for ruthless attention to detail, the management of information technology in a legal setting is not a good fit for every IT professional. In this case, hiring a well-respected IT consulting firm with an established reputation can make a lot of sense.
Media and Communications Companies
Another category of company that benefits from the services of an outside IT provider falls within the area of media and communications. Such companies include media production, event production, film production, public relations, and publicity. These companies create and share massive quantities of information, and how they control that data can determine their level of business success.
In this era of constant collaboration, the need to manage a large and fluid workforce of creative talent demands great agility and responsiveness. A savvy and adaptive tech firm can fit well in this setting. The products recommended by the IT service provider be appropriate for a collaborative, project-oriented environment.
Backups, file sharing, data recovery, and the administration of access privileges can be a few areas of particular importance in this setting. Also worth mentioning are project management applications or tools and cloud-based video and file sharing. Any product or platform should include multiple permission levels, enabling cross-collaboration and oversight of ongoing projects. An IT firm with experience in this sector can help implement best-practices that will ensure the best possible experience for clients and staff.
Company Culture: Choosing the Right Provider
We would be remiss if we didn't mention the importance of vetting your prospective IT services provider to determine whether they're a good fit with your company culture. Every company environment is different and it is important that your staff feel comfortable with the IT provider or contractor in their midst. This can be a sensitive topic, for not all IT companies are the same.
As a Founder, CEO, or Operations Manager, your expectations and concerns may skew toward the technical realm, but keep in mind your team will be interacting with this provider on a regular basis. During the interview or vetting process, we recommend asking specific questions about communication protocols and if possible, ask to meet the person who will be responsible for management of your account. As with any decision, it is worthwhile relying on your gut-level instinct when you decide whether the IT provider will be a good match for your company. For full confidence, confirm that the provider conducts a complete background check on any new hires.
We haven't described all of the companies for whom an outside IT consulting firm is a good fit. However, we hope we've given you a sense of some environments where this kind of arrangement is a good match.
If you'd like to ask us about our services, give us a call and we're happy to give you a complimentary consultation.
Call us at 800-344-9018 or reach out via our Contact Form.